To Canadian Companies; learn how to develop your own export strategy to grow your business in new markets outside Canada.
Building a business from the ground up is no small feat—but you did it. Now, it's time for the next step: Taking your business into new global markets.
But how do you know if your company is ready to expand internationally? How do you find customers in unfamiliar territory? And more importantly, how can you take advantage of new opportunities while avoiding costly mistakes?
What you need is an export strategy and we're here to help. In our upcoming webinar, How to build a winning export strategy, our experts will give you a comprehensive crash course on everything you need to know to take your business global with confidence.
Join Export Development Canada live Wednesday, Aug. 31, 2022 from 1 to 2 p.m. ET to learn about:
How to assess your company's export readiness
How to identify the right markets for your products and services, and how you can use free trade agreements to make things easier
How to develop a market entry strategy and promote your product effectively
How environmental, social and governance (ESG) best practices will help you succeed in your target market
How one small Canadian business crafted their own export strategy and used it to find success in international markets
Click here to register for this event
As North America's Leading Energy Event, the Global Energy Show is the largest B2B exhibition and conference engaging with industry buyers and sellers, stakeholders and partners, CEOs and young professionals together to share knowledge and fuel innovation in the ever-changing energy landscape.
Hosted on June 7-9, 2022 the Global Energy Show will be inclusive to all energy systems, including features on the exhibition floor and conference in oil sands, hydrogen, wind, solar, petrochemicals, gas and LNG, electrification and nuclear. As no single source of energy can meet the increased global energy demand, the Global Energy Show is where Canada demonstrates its vision and leadership by bringing the right people together to meet global challenges with real-world solutions
The three-day Global Energy Technical Conference will see energy professionals present and discuss the latest technologies and showcase innovations leading the way towards low or zero emission energy systems. This year's technical conference will feature three new presentations on Hydrogen, Methane Emission Reduction, and Renewables. Attendees will have the opportunity to meet representatives from key international companies from global markets including the Middle East, North and South America, Africa, Asia, and Australia. In addition to the conference, the BMO Centre will host over 460,000 square feet of exhibition space for the Global Energy Show, showcasing the greatest solutions to today's complex issues in the energy value chain.
Together at the Global Energy Show in 2022, energy professionals will come together to lead the path of meeting energy demand, discussing energy transition, showcasing technology and innovation, and discovering the role of all energy sources in the greater energy system.
Exhibition
The Global Energy Show features a comprehensive exhibition show floor with over 600 exhibitors across five exhibition halls and an outdoor zone. Throughout the exhibition, visitors will find North America's greatest innovations and solutions to today's complex issues in the entire energy value chain. This June, visitors can expect multiple features on the show floor including the CHOA Theatre, MELA Pavilion, Country Markets and NextGen

Strategic Conference
Attending North America's only integrated energy event will provide the opportunity to understand energy sustainability strategies, how oil and gas is still vital to a functioning economy, and uncovering how hydrogen has the potential to power our everyday lives. The Oil and Gas international conference will investigate new avenues for renewable energy, and how cleantech investments and innovation are at the forefront for decarbonization.
Technical Conference
The Global Energy Show Technical Conference brings together technical energy professionals from around the world to present and discuss the latest technologies, processes and innovations leading the way toward zero emissions energy systems. Hear from over 100 speakers providing you with access to a wealth of critical industry-leading knowledge. Speakers are selected based on a peer review by the Global Energy Show Technical Committee and represent the top technical and project-based influencers from around the world.
February 17 | Virtual
Join the panel of experts at Canada360 for a discussion on the changing global economy & how COVID19 will force us to operate in a dramatic new global environment.
Canada 360° Economic Summit works to mobilize the Canadian business community to apply its ingenuity to find the bold policy solutions needed for Canada to compete in a changing economic landscape. This event will feature panel discussions, one-on-one conversations and keynote addresses that will harness the creativity of Canadian businesses to incite the innovative public policies needed to foster a business-led recovery.
Keynote Speakers
Hon. Erin O'Toole, Leader of the Official Opposition
Dr. David Satok, Chief Medical Officer, Rogers Communications
Dr. Janice Gross Stein, Fellow and Strategic Advisor, Creative Destruction Lab Rapid Screening Consortium
Jeff Leger, President, Shoppers Drug Mart
Featured Speakers
Chuck Magro, President and CEO, Nutrien
Gillian Doran, Chief Financial Officer Aluminium and the Rio Tinto Finance leadership representative for the region of North America
John McKenzie, CEO, TMX Group
Keith Martell, Director, President and Chief Executive Officer, First Nations Bank of Canada
Mairead Lavery, President and CEO, EDC
Tom Gaglardi, President, Northland Properties Corporation
Wes Hall, Executive Chairman and Founder, Kingsdale Advisors
Date: Sep 12th, 2020
Time: 7:00 pm Baghdad Time Zone
Venue: Webinar/Zoom
Country: Canada/Jordan/Lebanon/ United Arab Emirates/Iraq
Sector: Digital Transformation | E Government
The ongoing digital transformation holds the promise of improving productivity performance by enabling innovation and reducing the costs of a range of business processes. With more companies changing the way they do business in order to adapt to the new digital world, phrases like "digital transformation" are starting to feel too abstract. We've been expecting these generalities to give way to more specific advice: practices based on industry leaders' patterns for success
Jointly organized by Iraqi Canadian Chamber of Commerce, and the Iraq Future Foundation, this Webinar discussed factors that could explain such a approach and explored the role of policies in helping the economies realise the productivity benefit from this transformation.
A video recording of the conference has been published on our YouTube page
Date: Jun 28th, 2020
Time: 7:00 pm Baghdad Time Zone
Venue: Webinar/Facebook
Country: Canada/Jordan/United Arab Emirates
Sector: Oil & Gas, Economy
Join Iraqi Canadian Chamber of Commerce (IraqCanadaCham) for a free webinar on the "Oil Prices Fluctuation Impact on Iraq's Economy". Oil prices plunged over the last 3 months after economic uncertainty around the coronavirus caused demand to drop, and a dispute with Russia prompted Saudi Arabia to flood the market with low-cost oil, cutting prices by the largest amount in decades. What will the drop in oil prices mean for the Iraq economy? Finance Ministry data shows that May's oil revenue has left it more than $2 billion short of financing those costs. The shortfall for the coming month is projected to be far larger. The presentation will outline Canada's program at the conference and how you can benefit from participating.
To discuss the topic in details
You are invited to Join IraqCanadaCham to Webinar session
Oil Prices Fluctuation Impact on Iraq's Economy
WHEN: 28th June, 7pm to 8pm Iraq time
Keynote speakers
Issam Al Chalabi
Wadah Al Taha
Yasser Al Mimar
Click here to join
Iraqi Canadian Chamber of Commerce organized a webinar discussion about Iraq Stock Exchange on April 10th, 2020. The keynote speakers will be talking about the way of diversifying and increasing the investment tools and mechanisms, with the aim of increasing their depth and attractiveness and raising the level of investment liquidity and attracting a new segment of investors in Iraq Stock Exchange.
Topic:  جلسة نقاش – تطوير اداء سوق العراق للاوراق المالية
Date: Friday 10/04/2020 – الجمعة المصادف العاشر من نيسان
Time: 7:00 PM Baghdad Time Zone – الساعة السابعة بتوقيت بغداد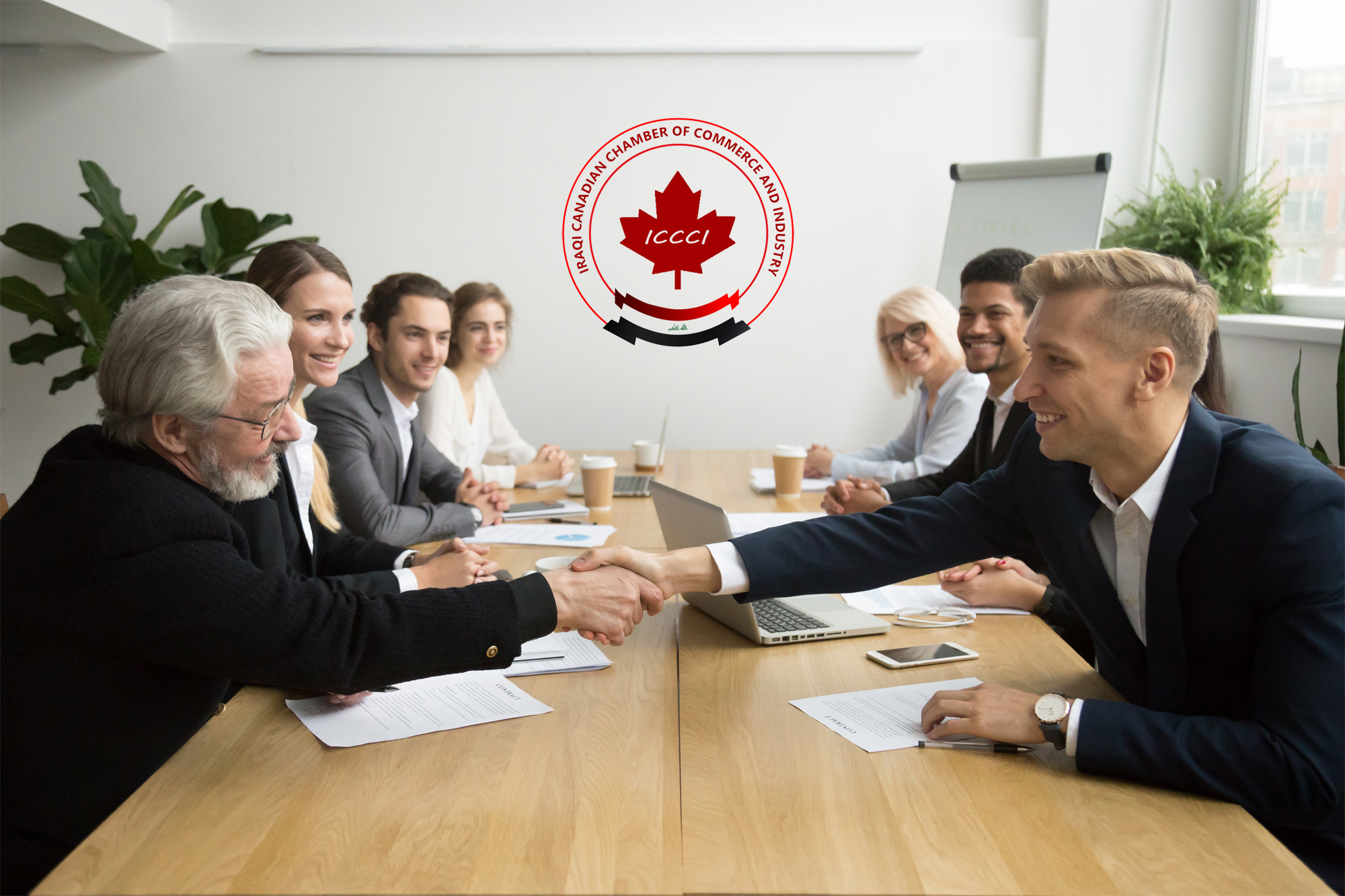 This workshop will provide pertinent information about the Canada market and how best to develop a strategy to start or corporate with Canada? Attendees will learn specific elements of strategy development and strategic tips in order to better understand and approach the Canada market. Cultural and behavioral aspects will be also be discussed in order to understand the best methods to contact and follow-up with Canada partners and clients.
The informative and interactive presentation will provide an overview of the current Canada market situation and discuss trends in the Canada market.
The workshop will use specific case studies of companies who have successfully developed the Canada market and discuss the challenges that were encountered during the development process.
Workshop Topics:
Understanding business norms; communication, negotiation and follow up
Developing your strategy
Determining client/partner targets and best marketing channels
"Follow-Up" and deal closure tactics
Market research focus
The workshop will be held in Baghdad on September  2019 – Please mark your Calendar
As increasing numbers of international investors seek to take advantage of the largely untapped Iraqian market, obtaining insight and guidance from companies that have detailed and in-depth local knowledge is essential in identifying and analysing the potential risks of doing business there.
Therefore, strengthening our economy is important for all Canadians. We proud to be at business leaders forum organized by the Canadian Arab Business Council in Toronto to discuss ways Canada is working to restore market access and re-build trust for Canadians Companies to Iraq Market
The Canada Arab Business Council is delighted to announce that its Business Forum will be held in Toronto in 2019 on the following dates and locations:
Gala Dinner
Date:   April 15, 2019
Venue: The Four Seasons Toronto, Aria Ballroom
60 Yorkville Ave, Toronto, ON M4W 0A4
Business Forum
Date:   April 16, 2019
Venue: Rotman School of Management, Desautels Hall Auditorium
University of Toronto
105 St George St, Toronto, ON M5S 3E6
The theme for the April 15 Gala Dinner is: Celebrating 50 Years of Canadian Business with the Arab World. 
The theme for the April 16 Business Forum is: Looking Forward to the Next 50 Years. 
Click here for the Abbreviated Program.
Iraqi Canadian Chamber of Commerce & Industry is partner with CABC, and our executive team will be participating on Canada Arab Business Council Business Forum event. The Iraqi Canadian Chamber will be presenting the projects opportunities in Iraq and an other opportunities to increase reconstruction efforts, and welcomed cooperation between Iraqi and Canada companies through the ICCCI